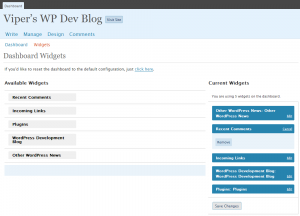 Viper007Bond has come up with a great solution to the rather messy Dashboard in WordPress 2.5. He has created Dashboard Widget Manager. It will let you manage what feeds you want shown in your WordPress Dashboard.
Great stuff! Just what I need when using WordPress as a CMS for clients! 🙂
PS: This plugin has been discontinues as WordPress 2.7 includes this as a core feature.